When you're on a mission to try and add mass and muscle, it can be greatly beneficial to add a mass gainer on your side to give you that boost. That's where GNC's Beyond Raw Re-Built Mass might be able to help you. I certainly wish that this were available earlier on when I was amidst my weight gain journey.
This GNC Re built mass review is intended to help you learn all about this supplement and see if it's a good fit for you.
---
What to Consider Before Buying
When using a mass gainer supplement, there are a few things you should consider to maximize your usage and make sure you're using it for the right reasons.
First, are you looking just to add muscle mass? If so, then you may want more add-ons than just pure protein alone. For instance, some products will add other substances that can aid your growth, like creatine, magnesium, and vitamin B6. When using such a combination product, it might be best to use it before your workout to help you pump out additional reps. If it's just a regular mass gainer alone, you can use it in the one-hour window after your workout is over. Something just as important, is your workout routine. Specifically using a workout routine to build mass will provide you with the best returns. For example, workouts with higher weight and lower repetitions work best, try focusing on compound movements and also try dumbbell chest exercises for men to maximize growing mass in your chest.
If your purpose for a powder is more for an on-the-go meal substitute, you might want another product that's designed for that purpose because it'll tend to have more nutrients. Otherwise, if your diet is already healthy, you could use your powder as a small meal replacement.
Finally, another thing to watch out for is the calorie count. To gain weight, this should be an important factor to consider. The unflavored products will tend to contain the lowest calories, so watch out for that. Don't forget about the carbs, proteins, and fats on the nutrition label as well.
---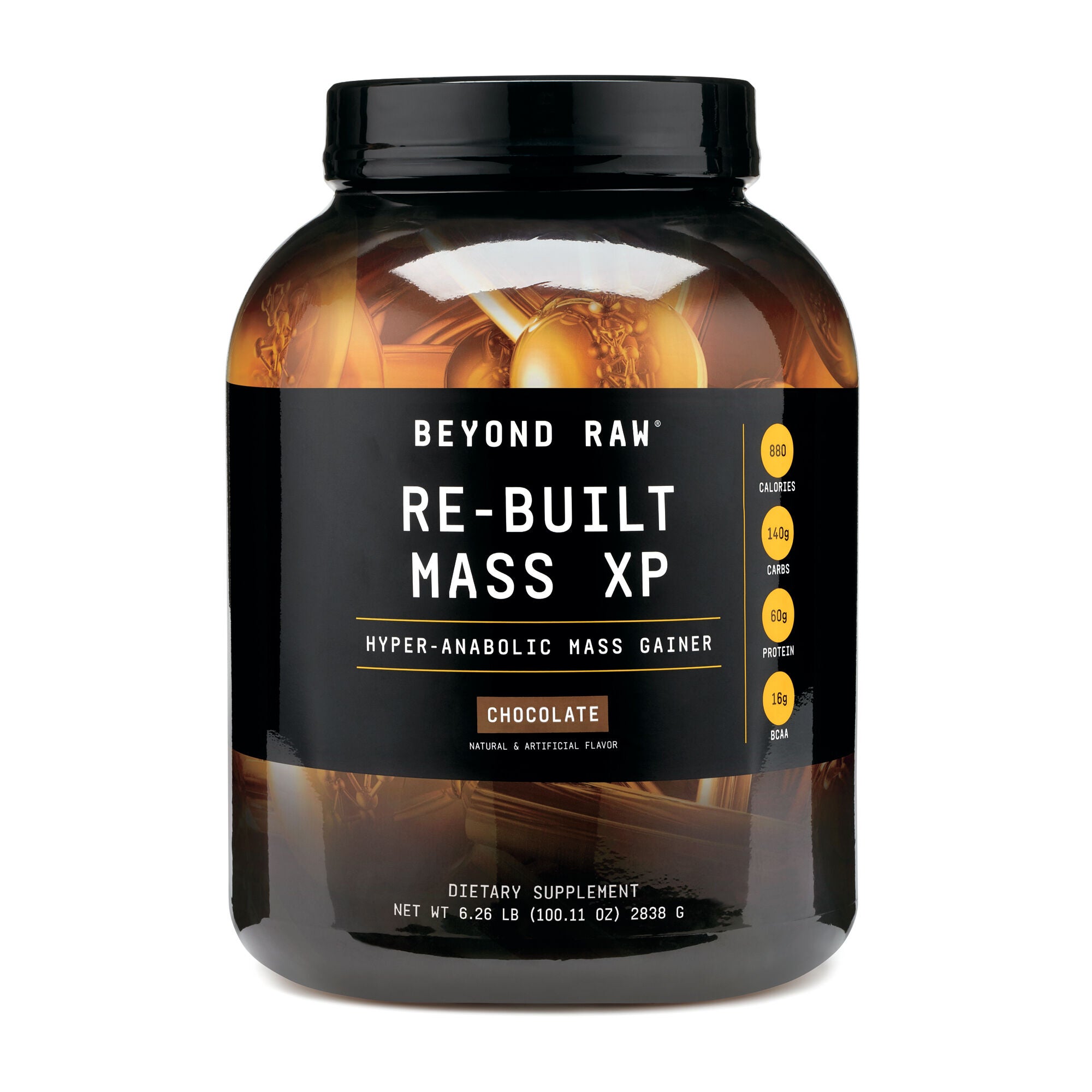 This product is the creation of GNC, a company that we all probably know of by now. It claims to be for the advanced muscle builder that is seeking to gain in mass, power, and size. The formula is packed not only in protein, but in additional supplements, carbs, and calories as well. What you'll be receiving is 880 calories, 140g of carbohydrates, and 60g of protein per serving you take. Compared to its competitors on the market, you'll be receiving far more grams of protein.
Be advised that the product is not intended for beginners. Best results can be shown by athletes who follow resistance training or bodybuilding programs in conjunction.
Pros:
Very high ingredient effectiveness
Great company credibility
5 flavors
Contains creatine, BCAA's, and other benefits
Cons:
---
Features & Benefits
This product contains 9g of an Advanced Creatine Complex and 19.3g of a Hyper Anabolic Complex. Let's look at a breakdown of how these ingredients can benefit your muscle protein synthesis.
Advanced Creatine Complex
Creatine is found naturally in your body and works to produce ATP, which is the energy your body needs to work out. This supplement provides creatine to help your churn out more reps in the gym and give you more energy to sustain your workout. It's a chemical that has been studied many times for its effectiveness.
This amino acid helps your body out with nitric oxide production so that your muscle cells are getting the oxygen they need to thrive. Plus, it can help with your blood flow as well. This broken-down substance can help with your workout endurance and support your recovery when it's over. I know this is something I could have definitely benefited from before.
Micronized Glycine
This amino acid is responsible for helping out with your insulin sensitivity, your central nervous system, and increasing the amount of creatine in your bloodstream. Though it's found naturally in the body, supplemental glycine gives you a boost.
Micronized Guanidinoacetate
This is another ingredient in the supplement that helps generate more creatine in the blood, which overall can lead to a fantastic workout. As you can see, creatine can be one of the most important elements when it comes to exercising.
---
---
Micronized L-Methionine
After exercising, this amino acid can aid in muscle repair and damage control by helping out with protein synthesis.
---
Hyper Anabolic Complex
Calcium HMB
HMB comes from leucine, which is one of the BCAAs you'll see further down. What leucine does is helps your muscles recover and aid in protein synthesis. HMB rounds the process all out by primarily slowing down the rate at which your muscle protein breaks down, which means your sustained growth will improve.
Digestive Enzyme
Because this product contains a larger amount of protein than most other supplements, your body might struggle a little more to digest it all. However, this supplement tries to combat that by adding digestive enzymes to give your stomach an easier workload to break it all down.
Taking this natural chemical as a supplement can possibly help improve your body composition and increase your strength and endurance in working out. In the long run, it might be able to help with your muscle development.
BCAA
Also going by the name of Branched-chain amino acids, BCAA is made up of 3 amino acids that are all about muscle protein building. You'll know them as Leucine, Isoleucine, and Valine. Plenty of studies have proven their effectiveness in protein synthesis and reducing fatigue.
---
Taste & Mixability
You can enjoy the Re-Built Mass XP supplement in 5 flavors, consisting of chocolate, vanilla, cookies & cream, peanut butter, and strawberry. Because of its high protein levels, you can also use this as an effective meal replacement. Personally, I like a classic chocolate flavor for my shakes. In general, you can add 3 scoops to a beverage of your choice and throw it into the blender. Try not to take more than 1 serving daily.
---
What Are Others Saying
On the GNC website, there are 80 re built mass reviews with an average rating of 3.9 stars out of five. Of these, 55% gave it five stars while 12% gave it one star.
Sean H. described how people viewed him differently after the product helped him gain size, which reduced his depression. Aaron M. considered the Re-Built Mass XP to be "heavy and delicious." JAG noted that their sons love the supplement, as it gives them plenty of protein post-workout. Christian D. said it was "a great product to help build your muscle mass" in his re built mass review.
---
Alternative Options
GNC Beyond Raw Re-Built Mass XP is far from the only mass gainer on the market. Thus, this Re-Built Mass review includes 3 alternatives for comparison.
This product is also densely packed, with over 80g of protein, over 400g of carbs, and over 2,000 mass-producing calories. It also comes with L-leucine, creatine monohydrate, and an impressive 20 vitamins and minerals. The protein is primarily whey protein, which is considered to have the best bioavailability among protein supplements. This supplement is filtered through its Multi-Phase Filtration Technology for less fat, lactose, and other impurities.
Pros:
More protein than Re-Built Mass
Cheaper than Re-Built Mass
Protein goes through a Multi-Phase Filtration Technology
Cons:
Doesn't come in a wide variety of flavors
Chalky taste
Must use a blender, as it's hard to stir or shake alone
If you're looking for a packed supplement that's more affordable and pure, you should consider the MuscleTech Mass-Tech Extreme 2000.
---
What you'll get with this product is 80g of protein, 156g of carbs, and 10g of creatine monohydrate. It is designed to trigger an insulin spike post-workout and is focused on increasing your weight and muscle growth. It features a multi-phase carb complex and whey protein isolate, the latter of which is also one of the purest forms of whey protein.
Pros:
More protein and carbs than Re-Built Mass
Cheaper than Re-Built Mass
Good blend of macros and creatine
Cons:
Comes in 4 flavors instead of 5
A little bit too thick
Potentially can cause stomach cramps
If you're looking for a product that not only helps with muscle growth but weight gain as well, then you should take a look at the MuscleTech Mass-Tech Elite Weight Gainer.
---
Instead of whey, this powder supplement relies on highly anabolic beef protein to help with your gains. It contains 50g of hydrolyzed beef protein isolate, 710 calories, 125g of a QuikCarb Complex, and is loaded with creatine and BCAAs. Plus, it also has a dual-action insulin signal amplifying technology called iSpike. It claims to deliver explosive muscle growth for every post-workout.
Pros:
Contains iSpike, which the product claims to promote up to 500% greater insulin spikes compared to eating protein alone
Contains hydrolyzed beef protein isolate
Contains a QuikCarb Complex
Cons:
Comes in 4 flavors instead of 5
Less calories and protein than GNC
Mixes well, but doesn't taste the best
If you're curious about trying a beef form of protein and want an insulin booster, the MuscleMeds Carnivor Mass Anabolic Beef Protein Gainer is the one for you.
---
Take-Away
Overall from this re built mass review, if you want to bulk up on muscle and supplement creatine, then GNC Re-Built Mass Gainer is a product you should consider.
With high amounts of protein, an advanced creatine complex, a hyper anabolic complex, and other beneficial ingredients, don't hesitate to check it out today.