Have you ever felt like you haven't gotten enough fruits and vegetables in your diet? Yeah, I can definitely relate. However, getting greens is an extremely important part of a good diet and shouldn't be neglected. That's why the Ghost Greens supplement may be the solution for you.
This Ghost Greens review is intended to help you learn all about this supplement and see if it's the one for you.
---
What to Consider Before Buying
If you're thinking about using a green powder, that means you're going to replace physical veggies and fruits with ones that have been blended into a powder.
Many green powder providers claim that their product will help boost your energy, your exercise performance, your immune system, and other benefits.
However, if you think you've hit the jackpot and never have to touch another veggie, think again. You can't simply out-supplement a poor diet. Instead, you should use this supplement in addition to a diet that's still rich in whole plant foods. That's because eating extract is simply different for your body than eating the actual foods themselves. The latter has a synergistic effect that can help with better nutrition absorption overall.
In general, the US Department of Agriculture recommends piling half of your plate with fruits and veggies for every meal. I know, it's a lot. But hey, we're all on a mission for a better lifestyle, right?
You should also be aware that because the FDA doesn't regulate green supplements, some companies might not fully disclose all the ingredients or their amounts. To be as safe as can be, check the nutrition label to see if it's been transparent enough or if the ingredients have been certified by a third-party source.
---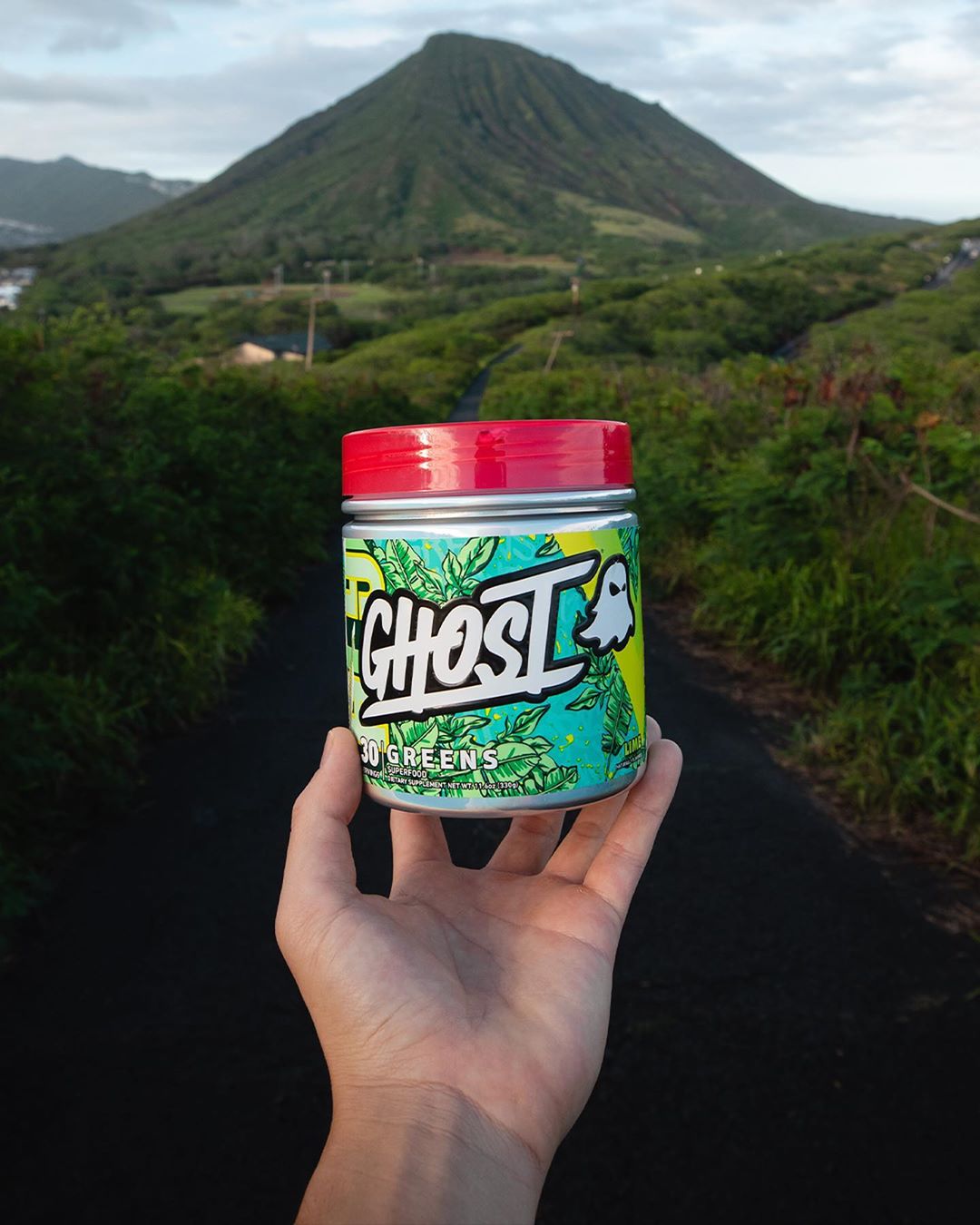 This product is all about making it easier to get your fruits and vegetables in. What you'll get is a blend of over 19 Greens and Reds along with fiber, probiotics, digestive enzymes, and more. All you have to do is mix in one scoop with your beverage of choice on the daily. On top of that, Ghost Greens does an okay job of supplying you with a transparent label and not just being full of proprietary blends like most of its competitors. On top of that, the company has partnered with ONE TREE PLANTED to plant a tree for every tub that is sold, so you can help support the environment as well.
Pros:
Open and transparent label
A high dosage of greens and reds
10 Billion CFUs from the DE111 strain
Probiotic and Enzyme Blend
3 Flavors
Cons:
Potentially overpowering flavor
Mixability ease can vary
---
Features & Benefits
This product contains 6640 mg of the Ghost Fruits x Vegetables Blend per serving and 2225 mg of the Ghost Gut Health Blend per serving. Let's look at a breakdown of how these ingredients can help improve your nutrition and health.
Ghost Fruits x Vegetables Blend
Super Greens 'Blend'
As the name might imply, this blend adds in a ton of green ingredients, like kale, wheatgrass, spirulina, chlorella, barley grass, and more. You'll also enjoy the benefits of Vitamin C, Vitamin K, and Vitamin A. Not to mention, spirulina alone is also a great antioxidant and contributor to a fatty acid called linolenic acid, which has been proven to be incredibly heart-healthy.
Antioxidant Reds 'Blend'
Though the name of the supplement is all about the greens, who can forget about the reds? We certainly can't! That's why it's great to see how the Ghost Greens incorporates a variety of fruits to give you the antioxidants you need. Not only can they help your mitochondria with energy production but can also help lower your levels of inflammation, oxidative stress, and improve your eyesight.
Spectra Total ORAC Blend
Spectra is a trademarked blend, meaning that it has been clinically proven and scientifically tested to provide a whole ton of health benefits. What this blend contains are 29 ingredients that include fruits, veggies, and herbs. Your antioxidant activity will increase, your free radicals will be reduced, and more nitric oxide will arise in your body naturally. All of this at just 100 mg per serving? It's something I definitely wish I had back then.
---
---
Ghost Gut Health 'Blend'
Inulin
The first way that inulin from this blend can help you is as a prebiotic fiber source. That means the fructans that make up this inulin, derived from the chicory root source, can improve your digestion and keep all your food churning along. Along the way, the inulin also aids your taste buds by naturally sweetening the product so that it's easier to consume.
Ghost Probiotic 'Blend'
This blend is completely unique to the product and contains a massive amount of CFUs — 10 billion to be exact. Probiotics are essentially bacteria, but the healthy kind. They live in your digestive tract naturally and aid in processing all the nutrients from the foods you consume. With this product, you'll add some high-quality probiotic strains to your diet and can experience better gut health.
BioCore Optimum Complete
BioCore is yet another trademarked blend full of digestive enzymes, which they've sourced from an ingredient formulator called Deerland. There are 11 digestive enzymes to be exact, which all contribute to nutrient absorption and digestion support.
---
Taste & Mixability
You can enjoy the Ghost Greens in 3 flavors consisting of original, lime, and guava berry. Surprisingly, the taste is pretty refreshing and light. Just a heads up, lime comes with a hint of the tart and acidic taste as expected. This can make it an unpopular option to drink every day. One scoop per day is the recommended amount, and though it will leave some particles at the bottom of your beverage, it mixes up well.
---
What Are Others Saying
On the GNC website, there are 44 reviews with an average rating of 4.7 stars out of 5 stars. Of these, 80% gave it 5 stars while 2% gave it one star.
Jane Doe described the product as "by far the best greens supplement I have ever taken." Spencer E. commends it for the taste, saying that there is "no gritty texture, blends in smoothly." Josh S. takes one bottle every morning and notes it "has taken me a long way on the road to being healthy and feeling better." Plenty of reviews also agree with Jessica S, who says that the product is "truly the best tasting greens I've tried."
---
Alternative Options
Ghost Greens is far from the only green powder supplement on the market. Thus, this Ghost Greens review includes three alternatives for comparison.
This product is also densely packed with raw organic greens, sprouts, and vegetable juices. Plus, it also includes antioxidants, enzymes, vitamins, and fatty acids like the Ghost Greens. However, it also adds amino acids and plenty of immune system support. It's also worth it to note that this product is vegan, organic, and free of dairy, fillers, and preservatives.
Pros:
Slightly cheaper than Ghost Greens
Has over 4,557 reviews with an average rating of 4.5 stars out of 5
Comes in 3 flavors of Original, Apple, and Chocolate
Cons:
Serving sizes can vary by bottle
Taste varies for each customer
If you're looking for a packed supplement that's more affordable and pure, you should consider the Garden of Life Raw Organic Greens.
---
This product is third-party tested and GMP certified to ensure that its ingredients are safe and healthy. It contains an alkalizing blend, a fiber blend, an antioxidant, an immune blend, a probiotic blend, and an enzyme blend. It claims to clear your mind for focused thinking and is packed with phytonutrients to give you the energy you need.
Pros:
More affordable than Ghost Greens
Organic, Non-GMO, and Vegan
Contains 20 whole foods
Cons:
Color and consistency vary per container
Not as big of a variety in flavor
If you're looking for a product that contains a ton of whole foods and plenty of healthy blends, then you should take a look at the Nested Naturals Super Greens.
---
This supplement contains 20+ whole foods and throws in antioxidants, digestive enzymes, and probiotic blends. It claims to be both delicious and nutritious and offers a boost of clean and natural energy with just one simple scoop. It provides 30 servings per container and is also GMP certified. Like Ghost Greens, Super Greens includes a probiotic 10 billion CFU blend as well.
Pros:
More affordable than Ghost Greens
Contains just as many servings
Includes 20+ whole foods
Cons:
Can leave a residue
Mixability
If you're excited to think with a clearer mind every morning, the Nutra Champs Super Greens is the one to try,
---
Take-Away
If you want to add more veggies and fruits in addition to the healthy diet you already have, the Ghost Greens supplement is a product you should consider.
With added benefits such as probiotics, fibers, enzymes, insulin, and more, you can check it out today.