Have you ever wanted to lose more fat or find a product that naturally aids in boosting your gains as you exercise? Without a doubt, I know that I have before! Well, the Ghost Greens supplement may be the solution for you.
This Ghost Burn review is intended to help you learn all about this supplement and see if it's the one for you.
---
What You Should Consider
There are several things you should consider before using a fat burner. First and foremost, you want to look out for a product that has as many natural ingredients as possible. We want to avoid the nasty chemicals if we can!
You should also know that many fat burners contain caffeine, so that's something to note as you look for the best product. If caffeine isn't your thing, try to look for one that has a low dosage or no caffeine at all.
In general, the best time to use a fat burner is after you wake up bright and early in the morning, at least 30 minutes before you eat a healthy breakfast. Your metabolism will be kickstarted and the momentum will last you through the day. To maximize this effect, it's important that you exercise and get your heart pumping! Be sure to also supplement this fat burner with plenty of protein, fluids, and sleep.
You can't completely rely on a fat burner to show off your gains. You still need to maintain healthy habits as always! On to the Ghost Burn Review!
---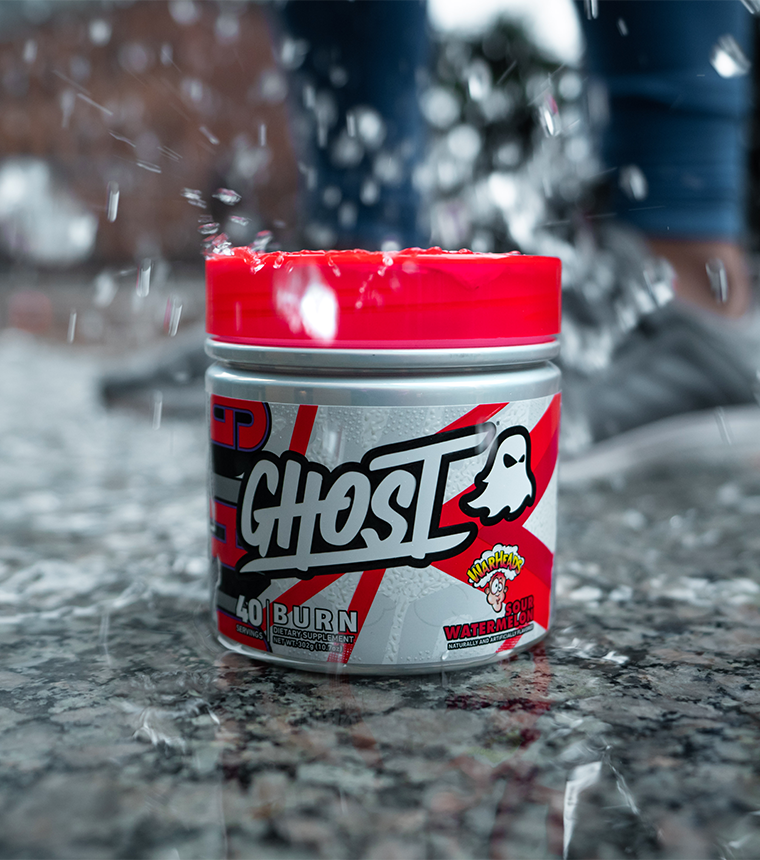 This product is a thermogenic powder that functions as a fat burner to help your body get into the best shape it can be. It's a densely packed powder that includes l-carnitine, garcinia Cambogia, ashwagandha, GBB, grains of paradise, and natural caffeine. It claims to improve your physical endurance and boost your energy levels. This supplement is best used by those who already exercise regularly or are athletes that could benefit from the power of a fat burner to get even leaner.
Pros:
Contains l-carnitine
Adds in grains of paradise
Adds in 300 mg of natural caffeine
Flavors include Welch's Grape and Pineapple
Cons:
Makes you sweat a little
Slightly spicy taste
Expensive
---
Features & Benefits
This product contains 11+ ingredients per serving that all function to help you lose weight and gain energy. Let's look at a breakdown of how these ingredients can help you on your fat loss journey and churn out workout reps.
Ghost Burn Blend
Chromium
This mineral is one that you need as an 'essential trace element,' but only in small amounts for your health overall. That's because it has the capability to help moderate your blood sugar levels and increase your absorption efficiency.
L-Carnitine Tartrate & Acetyl L-Carnitine HCI
This amino acid is responsible for carrying fatty acids over to your muscles to be converted into energy. The acetyl version also helps with your mind and improves your mental power and cognition. Plus, tartrate can also help your muscles recover fast after intense workouts. It's a key ingredient for anyone who wants to lose fat.
Choline DL-Bitartrate
This nutrient is all about making work for your mind a little easier. It'll keep you more mentally alert, support your brain cognition, and push back any sense of mental fatigue. In my opinion, there are simply not enough fat loss supplements out there that also prioritize the mind as much as the body.
KSM-66 Ashwagandha Root Extract
This extract has been clinically proven to lower levels of stress, cortisol, and anxiety-related food cravings. It's also beneficial for the bed when it comes to sexual performance and helps to regulate your hormone levels. Even further benefits include better memory, strength, and recovery. Without a doubt, this ingredient packs a heavy punch!
L-Tyrosine
L-Tyrosine is an amino acid that creates much-needed hormones, such as dopamine, adrenaline and noradrenaline, and thyroid hormones. It plays a huge part in regulating your mood, focus, and alertness.
Caffeine Anhydrous
Caffeine is most found in coffee and is a stimulant that greatly increases your energy levels. It inhibits the fatigue signal that your adenosine receptor fires and aids in speeding up the messages that are sent between your brain and body.
---
---
NeuroFactor Coffee Fruit Extract
This extract is all about increasing the levels of a brain-derived neurotrophic factor, which is a protein that helps protect and aid the development of your neurons in your nervous system. Without healthy neurons, you certainly wouldn't be able to function as well as you are now!
Grains of Paradise
Grains of Paradise is a potent ingredient and spice that helps turn your White Adipose Tissue into Brown Adipose Tissue. As you might have guessed, you want more BAT than WAT because you want to put that excess storage of energy to good use and have it work for you!
Synephrine
This is a stimulant that focuses on increasing your metabolic rate and caloric expenditure overall so that you're able to lose more fat.
Theobromine
This stimulant is also one that's found in chocolate! However, in this fat burner, theobromine works to increase your heart rate but decrease your blood pressure. Plus, your mental cognition and alertness are also brought up to speed.
BioPerine Black Pepper
Through thermogenesis, this common ingredient is used to help absorb your nutrients better and pump out additional work to break down fats.
---
What Are Others Saying
On the GNC website, there are 56 reviews with an average rating of 4.2 stars out of 5 stars. Of these, 70% gave it 5 stars in their ghost burn review while 12% gave it a 1 star ghost burn review.
David H. noted that in his ghost burn review that it was a "great product – produces a great sweat." As for taste, Katie L described it as having an "excellent taste, including a bit of a spicy kick." Gissel M. loves how it does "taste delicious and gives you that burn feeling and heats you up." For results, customer Aaron G. reviewed that he's "lost 40 pounds using the product as a pre workout" in his ghost burn review.
---
Alternative Options
Ghost Burn is far from the only fat burner on the market. Thus, this Ghost Burn review includes three alternatives for comparison.
This product is loaded with over 18 active ingredients and focuses on fat burning, endurance, and mental support. It contains similar ingredients to Ghost Burn like L-Carnitine and L-Tyrosine but also contains new ones such as caffeine sourced from Green Tea, a Vitamin Complex, Coleus Extract, Yohimbe Bark Extract, and more.
Pros:
More affordable than Ghost Greens
Has over 4,971 reviews with an average rating of 4.4 stars out of 5
Comes in 5 flavors of Cherry Limeade, Fruit Punch, Grape, Pink Lemonade, and Blue Raz
Cons:
Contains 30 servings, which is 10 less than Ghost Burn
Taste varies for each customer
If you're looking for a packed supplement that has 0 sugar, 0 carbs, and 0 crash, the Evlution Nutrition ENGN Shred Pre Workout Thermogenic Fat Burner Powder could be great for you.
---
This supplement is in pill form instead of powder and comes with 9 pills to eat per packet. It includes a red stimulant pill which you can remove, so Animal Cuts gets a bonus when it comes to customizability. Overall, this supplement heavily focuses on increasing your thermogenesis and metabolic rate. While it includes some similar ingredients to Ghost Burn, it also includes a thyroid complex and raspberry ketones.
Pros:
More affordable than Ghost Burn
Has over 4,553 reviews with an average rating of 4.3 stars out of 5
Comes in packets with pills and is customizable
Cons:
A bit of an aftertaste
Minimal side effects for some users
If you're looking for a product that is in pill form and customizable with a stimulant pill, then you should take a look at the Animal Cuts Fat Burner.
---
This product also comes in a capsule form which can last you for 30 days. It focuses on weight loss and reshaping your body in targeting common trouble areas like your hip and waist. It also helps to increase your metabolism and burn more calories as well. Overall, its biggest claim is that it can help you achieve a transformational weight loss in just 16 weeks.
Pros:
More affordable than Ghost Burn
Has over 1,724 reviews with an average rating of 4.4 stars out of 5
Also contains Caffeine Anhydrous and Black Pepper Fruit Extract
Cons:
Has produced intense side effects for a few customers
Results have varied for customers
If you want a supplement that can be taken in capsule form and want the focus to be directed toward your hip and waist areas, the BodyDynamix Slimvance is the one to try.
---
Take-Away
If you want a fat burner that can help boost your energy, endurance, and mental support in addition to your current exercise plans, the Ghost Burn supplement is a product you should consider.
With added benefits such as muscle recovery, blood sugar moderation, and better nutrition absorption, don't hesitate to check it out today.